Glowbar Treatments
What can I expect during a Glowbar treatment?

Glowbar treatments are customized for each client and can include a combination of these services:

Dermaplaning** - A manual exfoliation that removes dead skin cells from the outermost layer of your skin, as well as 80-90% vellus hair (read: peach fuzz). This exfoliation provides smooth glowy skin and allows for better absorption of product post-treatment. ** Not available at Glowbar Westport 

Light Chemical Peels - Non-invasive peels that remove the top layers of dead and damaged skin and encourage skin cell regeneration. These types of peels provide gentle treatment for fine lines, acne, chronic dry skin, and uneven pigmentation.

Manual Extractions - The process of manually clearing a clogged or compacted pores.

Cavitation - A tool which uses ultrasonic vibrations and water to help deep cleanse the pores of dirt, oil, and debris. 

Microcurrent - A tool used to emit extremely low-voltage electrical currents (hence 'micro' current), which mirror your own body's electrical currents on a cellular level to repair damaged skin and stimulate collagen and elastin production. This process is often referred to as a "natural" facelift.

High Frequency - A tool used to kill bacteria and reduce inflammation, providing acne-fighting benefits. This treatment also increases blood vessel circulation, making the treatment an effective anti-aging and glow-boosting tool.

LED - A light therapy that is painless, relaxing, and non-invasive with multiple benefits, including stimulating collagen production and treating mild to moderate acne.
Can I pick my service?

At Glowbar, we take the guesswork out of skincare by customizing each treatment to your skin to meet your needs in real time. So, unlike a traditional spa, there is no service menu. If you are interested in getting a specific service, make sure to mention it to your esthetician and they will evaluate if you are a good candidate for it!
How often should I get a Glowbar treatment?

Here at Glowbar, we recommend getting a treatment at least one a month for optimal results. However, you are welcome and encouraged to receive multiple treatments a month—as long as you wait two weeks in between.
Can I come in more than once a month?

Yes! We just recommend that you wait at least 2 weeks between treatments.
Why is a credit card required for booking an appointment?

Our booking system collects your credit card information to hold your appointment, however, you will not be charged until you complete your appointment and check out in studio. If you intend on paying with a gift card, no problem! The credit card is still required to hold the appointment, but we'll redeem the gift card in studio!
Can I request a specific esthetician?

While we cannot guarantee that esthetician requests will always be honored, you can request an esthetician by leaving a note in your appointment, or by calling or emailing the studio you will be visiting. You can find all contact information on our locations page.
Do you provide consultations for your skincare services?

Every Glowbar visit starts with an efficient, results-oriented consultation with your esthetician. As a result, your Glowbar treatment is customized to your specific needs on the day of the treatment.
Will my face be washed during my Glowbar treatment?

We want to use the 30 minutes allocated to your Glowbar treatment to get down to the results. So, we ask that you arrive 10 minutes early to visit our wash bar and cleanse pre-treatment. Uncertain about how to wash your own face? We've got you covered. Once in the studio, our Studio Guide will be able to provide clear directions.
What types of products do you use during Glowbar treatments?

Here at Glowbar, we partner exclusively with clinical, evidence-based brands to get you the best results. For specifics, call the studio you will be visiting. you can find all contact information on our locations page.
Do you sell products in studio?

Yes! We sell products from IsClinical, Environ, EltaMD, and Sofie Pavitt Face. 
Are Glowbar's treatment rooms private?

Glowbar's treatment rooms are semi-private.
Are any of the products used at Glowbar tested on animals?
Should I expect any injections during my Glowbar treatment?
Are Glowbar treatments pregnancy-safe?

Yes, absolutely. Please make sure to indicate on your intake form (or let your esthetician know) if you are pregnant or breastfeeding, and your custom treatment will be tailored accordingly.
Are Glowbar treatments for all genders?

All genders are welcomed at, and encouraged to come to Glowbar.
Is there anything I shouldn't do before a Glowbar treatment?

We ask that you stop using prescription retinol 3-5 days before your treatment, and wait two weeks after receiving a laser treatment, fillers, or Botox to visit Glowbar. Additionally, if you are currently on Accutane or similar medication, we ask that you wait until 6 months after your medication cycle is complete.
Is there anything I shouldn't do after a Glowbar treatment?

We ask that you wait 24 hours before working out and avoid all active ingredients (AHAs/BHAs/Retinol) for 24-48 hours.
Can I get a facial if I have a cold sore?

No, not until the scab has fully shed and the skin behind it has healed.
Can I get a facial if I have eczema?

Typically, as long as you don't have active breakouts or any active flare ups of eczema, sensitivity, or other skin issues, we'll be able to proceed!
Do you treat the neck, decollette, or back?

No, we only treat the chin up.
What if I have allergies?

Indicate your allergies on your intake form and let your esthetician know, and we will work around them.
How old do I have to be to receive a Glowbar treatment?

Anyone under the age of 18 requires parental consent. Any client under 18 must have their intake form signed by their parent or guardian in person before their first appointment. Once they have their form signed the first time, the parent or guardian does not have to accompany the client to any following appointments.
Can I book a treatment longer than 30 minutes?

Each treatment is designed to be just 30 minutes long (it's all you need!), but you can receive multiple treatments per month for an additional $75 or $55 if you are a member.
Glowbar Membership
How much does the Glowbar membership cost?

As a Glowbar member you pay $55 each month and we ask that you commit to four months of membership. After that point, your membership auto-renews, and you are free to cancel or pause at any time.
What does a Glowbar membership entail?

- One treatment a month

- Additional treatments for $55

- One guest pass per membership year

- 10% off retail (20% off at sign up)

- Enrollment in our referral program: Face it Forward.

- Access to exclusive events & perks

Note: treatments do not rollover.
When am I billed?

You are billed on the 1st of every month.
Can I cancel or suspend my Glowbar membership?
What if I want more than 1 treatment per month?

All additional treatments can be purchased at the membership price ($55).
Do monthly treatments roll over if I miss a month?

Treatments do not rollover.
How do I start a membership?

Glowbar memberships can only be started in studio. If you would like to become a member, you can book a "Start a Membership" treatment or let the Studio Guide know at checkout.
How do I update my credit card information that is linked to my Glowbar membership?

Give your studio a call (see all contact information on our locations page) and we will update the credit card information linked to your membership.
How do I use my membership Guest Pass?
Can I use my membership at any location?
Can I share my membership?

No, Glowbar memberships cannot be shared.
Membership Referral Program
How do I refer someone?

You must be a Glowbar member to refer someone. If you are, just have the new clients you refer mention your name when booking (online or in person) and/or at check out! We'll apply all credits once the new client checks out.
What do I get for referring someone?

When the new client you referred completes their treatment, we will automatically add a $10 product credit into your account.
Is there a limit to how many people I can refer?

The limit does not exist – refer away!
Does credit or $10 off expire?

It doesn't! Use it at Glowbar when it works best for you.
I referred a friend, but I was told I don't have credit on my account.

Shoot us an email at support@glowbar.com with your friend's name and phone number and we can help. Please note that credit does not appear in your account until your friend has completed their first treatment.
What happens if the person I refer converts to a member?

If the client you refer converts to a member, their treatment will be $65 and you will both get a $10 product credit added to your accounts.
I'd rather use my product credit for $10 off my monthly membership. Can I do that?

Unfortunately, we are unable to put credit towards the cost of monthly memberships, but you can always save up your credit for something you've had your eye on!
How can I check to see how much product credit I have?

Ask the Studio Guide at your next appointment, email us at support@glowbar.com or give us a call at 917-261-4300, and we will let you know. Product credit does not expire and will be applied at checkout.
Glowbar Founding Membership
How do I sign up for a founding membership?

Before a new studio opens, you will have the opportunity to become a founding member by booking a "Start a Founding Membership" treatment.
When does my membership activate?

Your founding membership activates the day of your first appointment once your home studio (the place where you purchased your membership) opens.
What's included in my membership?

Everything that is included in the regular Glowbar membership!
How much does it cost?

Founding memberships cost $50 each month for four months and require a four month commitment. Once the four months have been completed, your founding membership will auto-update into a regular Glowbar membership, which is $55 each month.
When am I billed?

You will be billed for your first month once you complete your appointment, and then you will be billed on the 1st of each subsequent month.
Policies
What is the cancellation policy at Glowbar?

For no-shows or any cancellations within 24 hours of your appointment, we charge a fee of $25. However, if you call to cancel over 24 hours before your appointment, there are no fees.
How do I cancel my Glowbar appointment?

You may cancel your Glowbar appointment via your booking confirmation email, or by calling the studio at 917-261-4300.
What is the late policy at Glowbar?

Running more than 5+ minutes late to your appointment will lead to a reschedule; please call our studio at 917-261-4300 to notify us.
How much is a Glowbar treatment?

$55 for members, $75 for non-members.
How do I book multiple appointments together?

Give the studio a call or shoot them an email—all contact information can be found on our locations page.
Glowbar Services

If you aren't pleased with your Glowbar treatment, shoot us a note at support@glowbar.com. We do not refund treatments, but we will always work with you to get you the results your skin needs.
Glowbar Products

If a product purchased from Glowbar is unopened, we will provide exchanges or store credit within 14 days.
Glowbar Gift Cards

Physical gift cards will not be replaced if lost or stolen, and are non-refundable.
Gift Cards
How can I purchase a gift card?

Gift cards can be purchased at any Glowbar studio or on our website here or under a selected studio location. Please note, gift cards may be redeemed at any Glowbar studio, regardless of where they were purchased.
How can I redeem a gift card?

Show your physical gift card or virtual gift card number to our Studio Guide at checkout to redeem your gift card. Gift cards cannot be applied when booking your appointment.
Do gift cards expire?

Gift cards do not expire.
Misc.
Can I host an event at Glowbar?
How do I apply for a job at Glowbar?

You can find all our current openings here. Don't see your role? NBD! Please send a resume and cover letter explaining why you wish to be on Team Glowbar to careers@glowbar.com.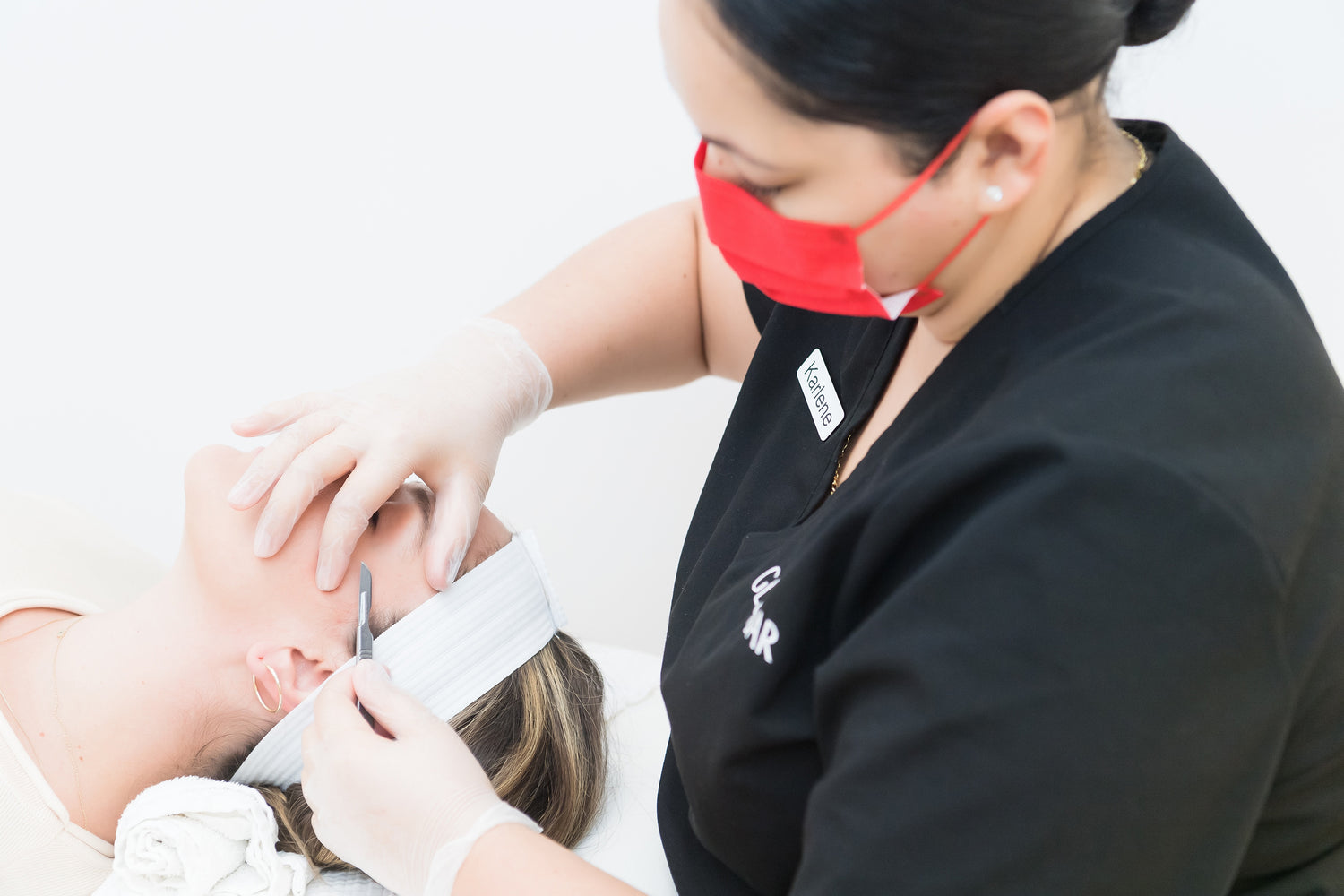 We're skin experts who see yours clearly
We care about people first, which means we care about our estheticians, too. Show your appreciation by tipping generously. 100% of your tips go to our estheticians.
JOIN OUR TEAM